How to remove rust spots from pavers
Removing rust spots from a paver driveway!
Stubborn rust stains on driveways can be quite the headache. My name is Kevin and I am the owner of Tin Tipper Dumpster Rental. We are a busy dumpster rental company that mainly services residential home in cape coral. We stay on top of our dumpster by preventing rust spots on our customers driveway, however sometimes an unforeseen rust stain pops up. While it is in our rental agreement that this isn't our responsibility, I take our customer service very seriously. I always try to assure that when our customers are done with the dumpster rental, we have given them the WOW factor. As I write this tutorial on remove rust stains, Tin Tipper is currently at a 5.0 review rating on Google My Business!
I am writing this after having to take care of a customer due to a heavy stain caused by one of our new dumpster that had a pin hole in the front. No company is perfect, what you do to make it right is how you will gain customers for life.
Evapo-Rust from Nothern Tool
I happened to be at Northern Tool and saw this product call Evapo-Rust. While this product is highly rated for tool and other metal item rut removal, it did not work on the paver driveway. I used this product straight out of the bottle and poured it onto the rust stain, I also used a metal brush to penetrate the product into the pavers. The end result from this product after 3 applications was only about a 30% rust removal. This bottle cost just under $10.
This is our go to process for rust removal on paver driveway.
Here is what you will need to remove the rust stain completely off of the driveway, all of these items can be purchased from Home Depot :
Hard Bristle brush

Bucket

Garden Hose with plenty of H2O!
My first attempt at this I figured I would just blast the stain away with a pressure washer. If you don't own a pressure washer, this Sun Joe SPX3000 vs SPX4000 pressure washer review might come in handy! I've owned a pressure washer for a while now and this seemed like the perfect opportunity to use it. I haven't used the washer much before but it's perfect for DIY tasks like these. If you've never tried pressure washing, I highly recommend it. The paver was really dirty and grimy and it took the dirt off with no problem at all. You could probably do the same on a patio or even a decking. I had quite a lot of fun doing it actually! There are lots of things that you need to look out for when you're buying a pressure washer according to this review though. I spent quite a while reading appliance reviews and buying guides and it's definitely worth taking the time to do this in my opinion. It worked pretty well on the pavers however the rust stains on the pavers were still visible. I then went to Home Depot to purchase some oxalic acid, however, no one in my area sold just the powder concentrate. This product is however available online : Click here to see the oxalic acid powder product.
Mix the bar keeper powder approximately 1 cup to 1 gallon of warm water. Grab the brush and really scrub the product into the pavers and the heavy concentration of rust areas. I also spread powder directly from the container over the harder areas. this may take several coats for optimal rust removal. Remember that pavers and concrete are extremely porous, chances are the rust spots are really work themselves into the area.
As you can see from the picture above, the driveway is starting to look normal, although rust spots are still visible. As such, this is not truly acceptable. If these spots have penetrated the pavers too deeply and won't come out, then you may need to find concrete contractors denver or wherever you are based and have your driveway concreted or freshly paved. Ultimately, it might come to that in some cases. However, there are other things which could try first.
Rust removing product CLR : Calcium, Lime, and Rust Remover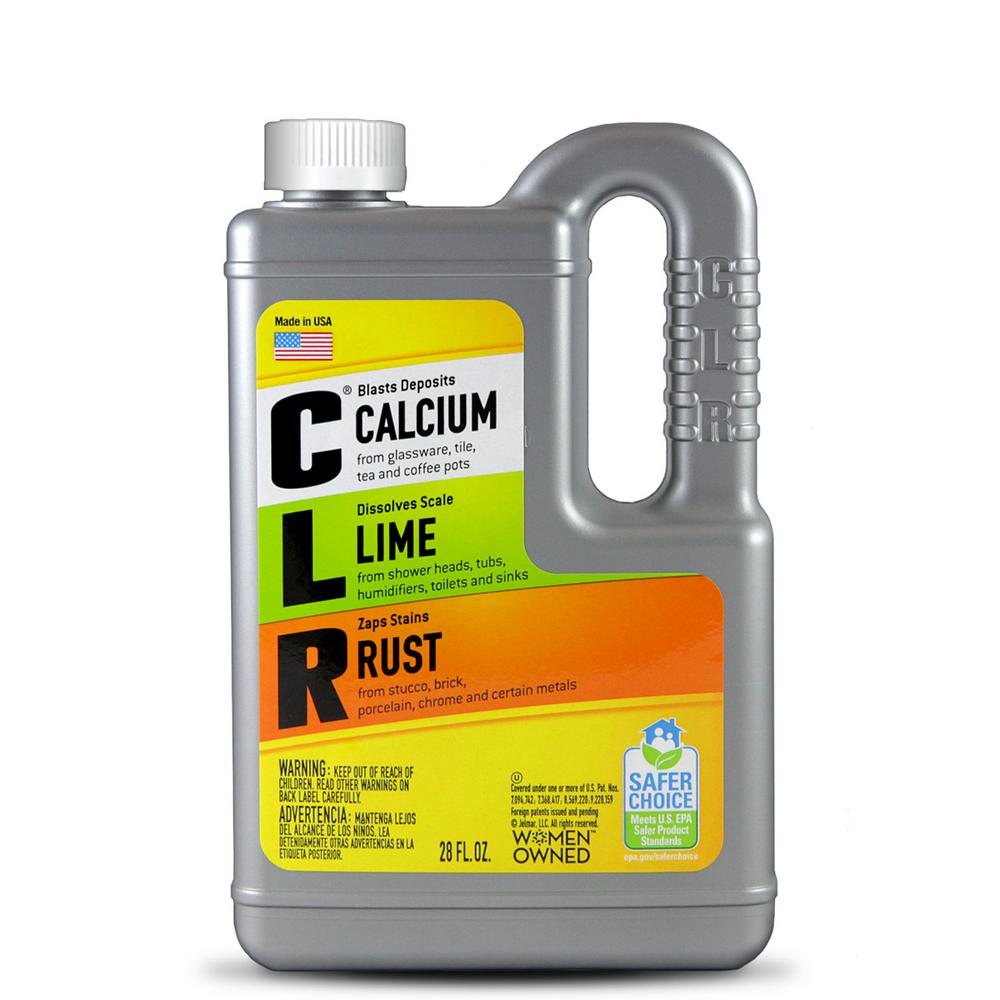 This product has been my go to end product for rust stains and spots on concrete and paver driveways. A 28oz bottle of this chemical will however set you back around $22. Due to price of this chemical, I like to remove as much as possible with Bar Keeper, which is a $2 product. Here is how I have found this product to work best for me. I do not dilute the product and pour it directly onto the heavy rust stained areas. The instruction on the product inform you that you should rinse off the liquid after 2 minutes. This in my opinion is way to short of a period and doesnt allow the chemical to penetrate the rust spots that have worked there way into the porous pavers. I usually leave the chemical on the rust stains for at least 20 minutes to 35 minutes. I will also lightly scrub the CLR product throughout the area to ensure complete rust stain coverage. While I did not take a video of this process, take a look at the following YouTube video.
Rust Stain / Spots are complete gone!
This clean up took me just over an hour. In my opinion, I will do whatever it takes to keep my dumpster rental customer completly satisfied with our service. Below you will see the finished product which is a completely removed rust stain!